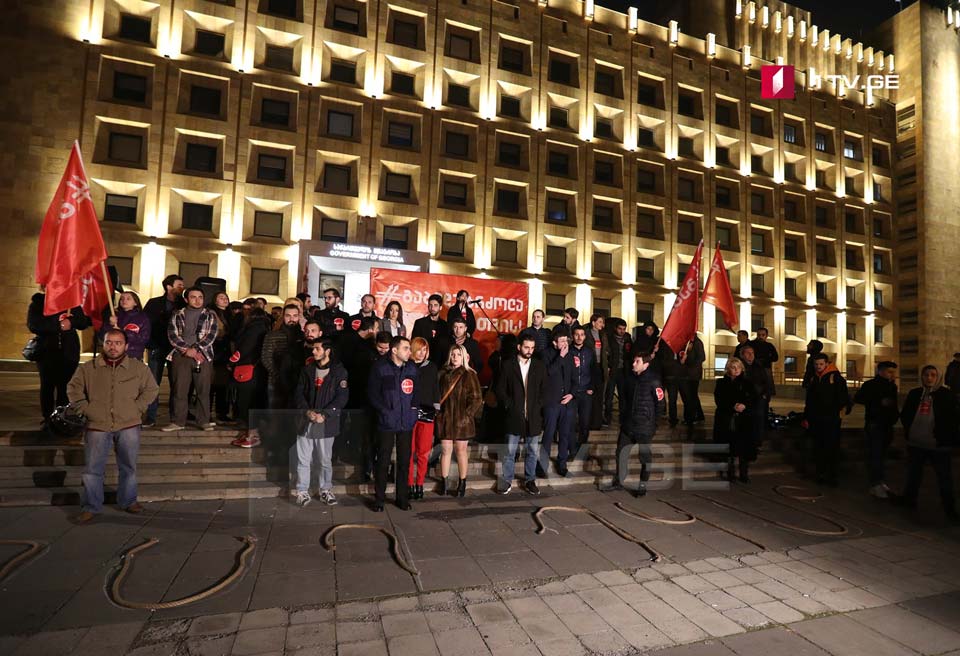 "Dare" movement holding protest at Governmental Administration (Photo)
Members of "Dare" movement are holding a protest at the Governmental Administration with the slogan "Struggle for life." The activity began with observing a 1-minute silence in commemoration of Luka Siradze, a 15-year-old youth.
Protesters claim that the system is violent and has to be changed. They also demand the resignation of Minister of Internal Affairs and objective investigation into death case of the juvenile.
"We will put an end to this system. This is the first warning protest and we will not surrender in this struggle," Nika Petriashvili, a participant of the activity claimed.
Participants of the protest made an inscription "Down with System" with ropes in front of the Governmental Administration and then set the phrase ablaze.
A 15-year-old juvenile, who was injured when attempting to commit suicide, died in a hospital on December 17. Doctors of Iashvili Children's Clinic said the teenager's condition was critical and he was attached to the artificial breathing device. Foreign invited doctors were also involved in the treatment.
The teenager jumped from the 9th floor of a block of apartments in Dighomi district of Tbilisi on December 12. The incident was preceded by a conflict at Green School. The juvenile was questioned by the police.
The lawyer claims that his defendant was subjected to psychological pressure during questioning. He said that law enforcers were forcing the teenager to admit to having committed hooliganism.