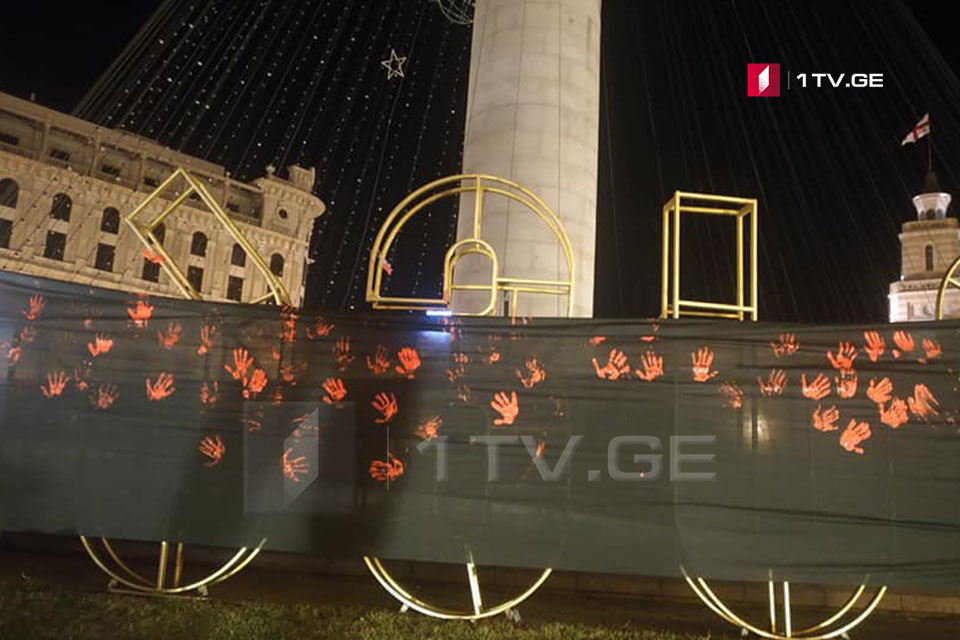 "Dare" Movement bounds black lace around New Year Tree at Freedom Square
Members of "Dare" Movement bounded a black lace around the New Year Tree at Freedom Square in Tbilisi in connection with the death of 15-year-old juvenile Luka Siradze.
"With this move we want to express our protest against the system which kills, and we have nothing to celebrate. Kakha Kaladze (Tbilisi Mayor) wanted to write here 'City Full of Life' but he could not dare and wrote 'City Full of History.' Tbilisi has turned into the city full of bloody stories. Youngsters commit suicide because law enforcers extort violence against them and this has to be put an end," Misha Kumsishvili, a member of "Dare" Movement said.
Members of "Dare" Movement claimed that public representatives would be guilty if they did not resist to the system, otherwise other people would be put at risk and in danger in the future.
A 15-year-old juvenile, who was injured when attempting to commit suicide, died in a hospital on December 17. Doctors of Iashvili Children's Clinic said the teenager's condition was critical and he was attached to the artificial breathing device. Foreign invited doctors were also involved in the treatment.
The teenager jumped from the 9th floor of a block of apartments in Dighomi district of Tbilisi on December 12. The incident was preceded by a conflict at Green School. The juvenile was questioned by the police.
The lawyer claims that his defendant was subjected to psychological pressure during questioning. He said that law enforcers were forcing the teenager to admit to having committed hooliganism.