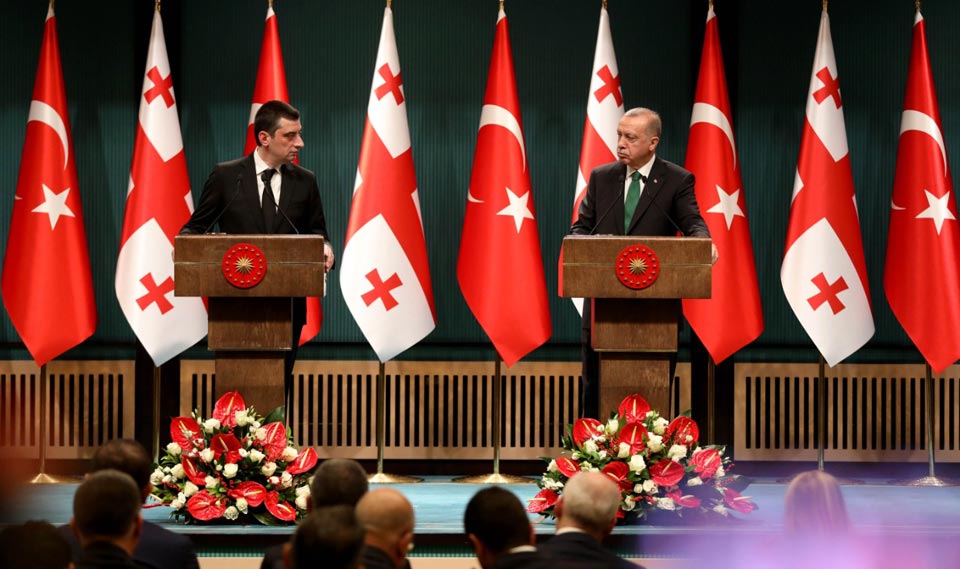 At the invitation of Georgian PM, Recep Tayyip Erdogan will visit Georgia in spring
Recep Tayyip Erdogan, President of the Republic of Turkey will visit Tbilisi next spring by the invitation of Giorgi Gakharia, Prime Minister of Georgia. It was announced at the Joint Media Briefing held by the President of Turkey and Head of Government of Georgia today.
President of Turkey thanked the Prime Minister of Georgia for the visit and once again congratulated him on the appointment to the position of the Head of Government of Georgia.
"He is a leader, who had a close cooperation with our Minister of Interior in his previous capacity as a Minister of Internal Affairs of Georgia. I believe that under the leadership of our dear friend, Georgia will continue its development; relations between Turkey and Georgia will also extend further.
We discussed our historic links at the meeting, along with our shared values and opportunities brought by the neighborhood. I instructed the Minister of Foreign Affairs of Turkey today accordingly and Strategic Partnership Council will convene in the nearest future. We have developing relations in every dimension with our friendly nation of Georgia ranging from trade to tourism, from energy to defense. I believe that strategic partnership will be beneficial not only for our two countries, but to the entire region. Energy and transport projects implemented jointly with a brotherly nation of Azerbaijan have led to the creation of a belt of stability from the Caucasus to Anatolia.  With our strategic vision, Baku-Tbilisi-Ceyhan and Baku-Tbilisi-Erzurum Natural Gas Pipelines have been augmented with Trans-Anatolian Natural Gas Pipeline implemented together with Georgia and Azerbaijan, thus turning our region into an energy hub. Significant step has been made towards transportation. Baku-Tbilisi-Kars Railway Line is a milestone event towards this end. By launching this railway link, 3 friendly nations have been connected to each other more closely. Baku-Tbilisi-Kars Railway Link is a significant segment in the middle of a route passing from London to Beijing. My connections with Georgia do not only comprise pipelines and railway links.
In line with an Agreement concluded in 2011, we not only lifted the visa requirement, but ensured a passport-free travel across the border. Turkey is the largest trade partner of Georgia and our citizens can travel by merely presenting their ID cards at the border. We are very happy with this achievement. I confirm our kind will to continue and increase our economic cooperation on the grounds of mutual benefit and respect. Today, we once again expressed our kind will to boost our trade volumes from 1.5 BLN to 3 BLN USD. Within this scope, we will be making required steps towards strengthening our cooperation further to find a greater use of the trade potential existing between Turkey and Georgia. Favorable opportunity of this arises with a mixed meeting of the Economic Commission of Turkey and Georgia to be held in Ankara soon",- the President of the Republic of Turkey noted.
Host dignitary also noted that security, bilateral cooperation and regularly held joint military exercises with an engagement of Georgian and Turkish servicemen were among the topics discussed with the Prime Minister of Georgia today.
"Independence of Georgia, political stability and territorial integrity are most important for us. We continued joint exercise with an engagement of Turkish and Georgian military forces this year. Almost 2200 Georgian servicemen participated in training and various courses held in Turkey. Our efforts of peace and stability in the shared Black Sea continues with support of Georgia" added the President of the Republic of Turkey.
Hosting dignitary noted that as Georgia is a connecting bridge for Turks with brothers in the homeland of ancestors, Turkey is a strategic bridge in establishing healthy relations of Georgia with the west.
"I thank the Prime Minister of Georgia and esteemed delegation for a fruitful visit. After holding a high-level meeting of the Strategic Partnership Council, I stand ready to accept your invitation to visit Georgia in spring" ,- concluded the President of the Republic of Turkey.