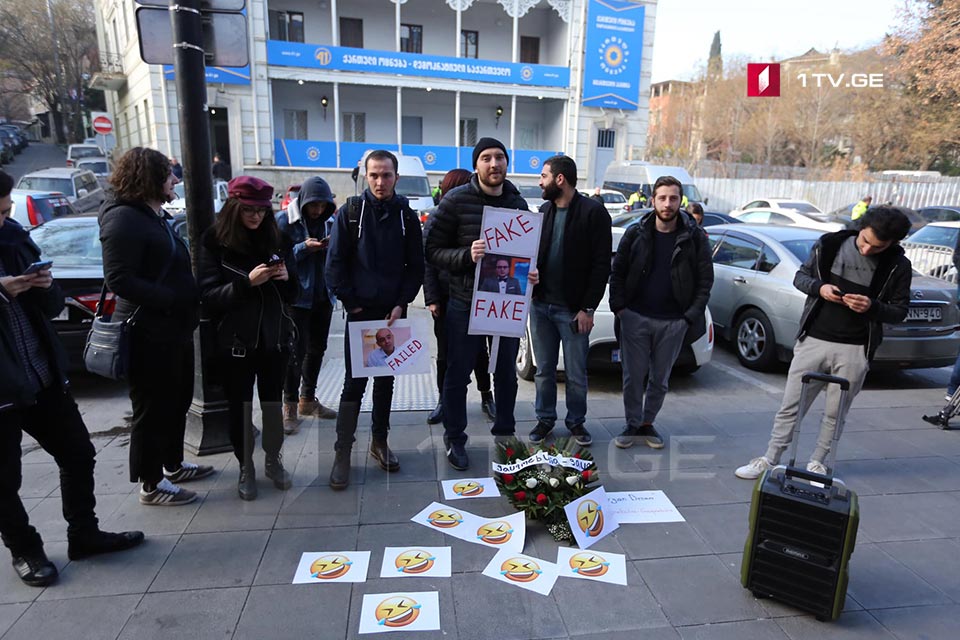 Activists of "It is a shame" hold activity-performance at Georgian Dream Office (Photo)
Activists of "It is a shame" youth movement held an activity-performance at the central office of the ruling Georgian Dream – Democratic Georgia Party. Participants of the activity brought a wreath to the office with 'Cancelled, Cancelled' reading on the lace that symbolized the detection and deletion of fake accounts by Facebook.
"Much money is spent on the creation and administration of these pages. This is a Russian practice with which Putin rules Russia and Bidzina Ivanishvili (Chairman of Georgian Dream) imported this practice from Russia," Tamta Gogoladze, a participant of the activity said.
The social network Facebook deleted 418 non-authentic accounts created in Georgia from its platform and Instagram. This has to do with fake accounts and groups whose creators tried to mislead the public about their identities and activities.
According to Facebook, the web-pages were camouflaged and registered as political parties, public entities, activist groups and media outlets through which the administrators wrote posts about political developments, elections, high-ranking officials, opposition and other organizations.
In total, Facebook deleted 39 profiles, 344 pages, 13 groups and 22 Instagram accounts. The erased pages had at least 500 thousand followers. The research carried out by Facebook showed that the ruling Georgian Dream Party and advertising agency Panda stood behind the non-authentic pages.