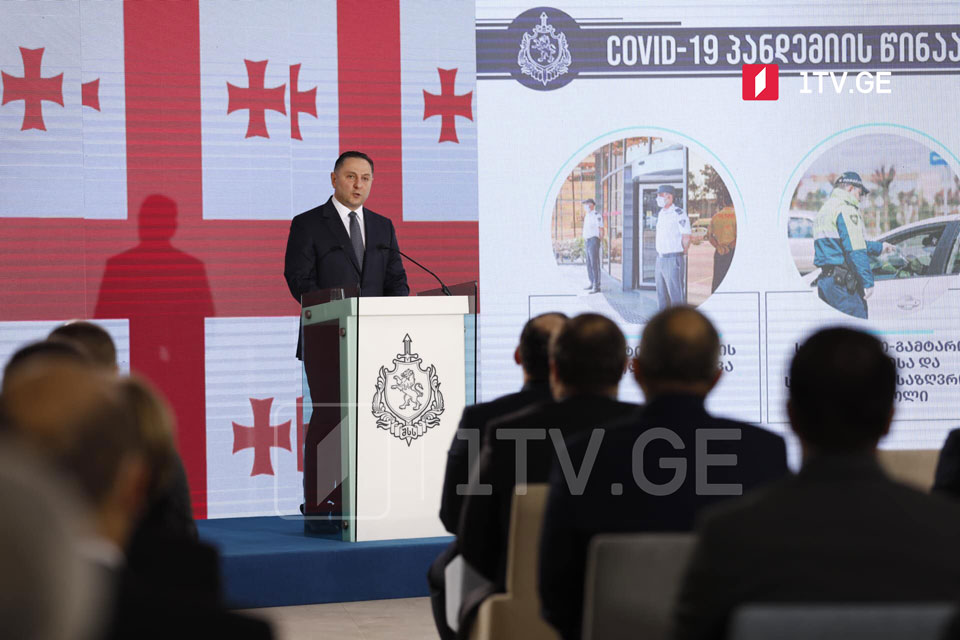 Acting Interior Minister presents his annual report
The Acting Minister of Internal Affairs, Vakhtang Gomelauri, presented the 2020 Report of the Ministry of Interior on Friday.
"Police are everywhere wherever the country and our citizens need them. I would like to thank each and every employee for their invaluable work", Vakhtang Gomelauri said at the presentation held within the framework of the Government Report to Citizens. He said 2020 was a year of unexpected challenges.
The caretaker minister touched upon the most challenging and important issues on the agenda of his ministry in 2020. Gomelauri emphasized the fight against trafficking is a priority for the Ministry of Internal Affairs.
"In 2020, 152 cybercriminals were arrested by the police and prosecuted", the acting minister reported.
The acting head of the law-enforcement body underlined that the ministry thoroughly addressed all the challenges caused by the Covid-19 pandemic in the country. Despite the spread of Covid-19 and the danger of infection to all employees, the work has not been delayed for a single minute, Gomelauri said.
The acting minister gave an example, saying that the telephone operators of the 112 lifelines to public safety answered up to four million calls from January 1 to November 30, 2019, which is a double year-on-year.
Gomelauri also said that improvement of infrastructure was among the priorities this year. Construction and infrastructure projects were implemented within the Border Police and other services.
"This year, we have built a total of 12 new buildings", the acting Minister of Internal Affairs, Vakhtang Gomelauri, said.
According to Vakhtang Gomelauri, the construction of the modern border sector on the territory of Davit Gareji will be completed soon. He said the U.S. Defense Threat Reduction Agency (DTRA) assisted in building the Border Police Sector.
According to the Acting Interior Minister, the Ministry successfully continues to fulfill its commitments made by Georgia to integrate into NATO and the European Union. Gomelauri said at the presentation of the Agency's 2020 report Georgia, as a reliable partner of NATO, is actively involved in ensuring peace and security in the Black Sea region.
"Cooperation with the European Border and Coast Guard Agency (FRONTEX) deepened to ensure visa-free travel with the EU", Gomelauri concluded.