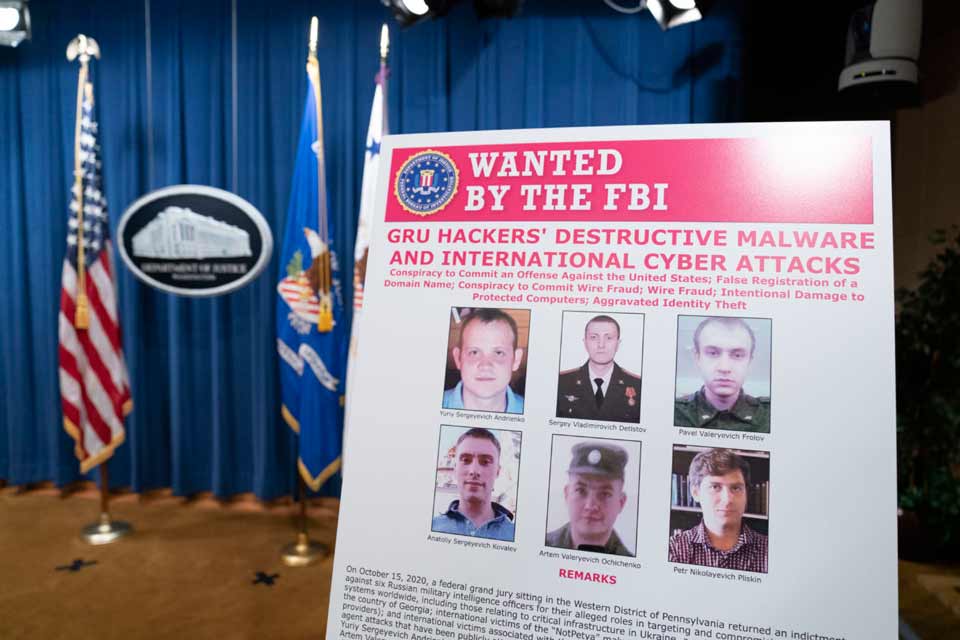 6 Russian military officers charged with a worldwide cyberattack
Six Russian military officers have been charged in what the US Justice Department says was a hacking scheme to attack several major foreign powers, former Soviet republics and subvert investigations into nefarious activities by the Kremlin.
The alleged cyberattackers hacked into the software using destructive malware to blackout thousands of computers and cause nearly $1 billion in losses, and were intended to support Russian government efforts to undermine, retaliate against, or otherwise destabilize worldwide computer networks, the Justice Department said.
The alleged hackers are officers of the Russian Main Intelligence Directorate (GRU), a military intelligence agency of the General Staff of the Armed Forces. Monday's charges allege some of the most consequential political attacks levied by the Kremlin since its efforts to interfere in the 2016 US presidential election, including the hacking of Democratic Party email accounts.
Prosecutors said they attacked Ukraine; the country of Georgia; elections in France; efforts to hold Russia accountable for its use of a weapons-grade nerve agent, Novichok, on foreign soil; and the 2018 PyeongChang Winter Olympic Games after Russian athletes were banned from participating under their nation's flag, as a consequence of Russian government-sponsored doping effort.
The United States District Court for the Western District of Pennsylvania issued a federal arrest warrant for each of these defendants upon the grand jury's return of the indictment. "The defendants' and their co-conspirators caused damage and disruption to computer networks worldwide, including in France, Georgia, the Netherlands, Republic of Korea, Ukraine, the United Kingdom, and the United States," prosecutors said, as reported by CNN.